The classic trekking destinations below are the ideal places for the professional trekking tourists.
---
The following classic trekking destinations introduced by LonePlanet Magazine are ideal places for professional trekking travelers. They all require a healthy body, tough legs and usually only need a bit of money to pay for the room fee. However, if you choose to explore any of the following, you will also experience interesting things and will gain valuable experiences for the rest of your life.
1. The camp on Mount Everest, Nepal
Located at 5,545m (18,193 ft) at Kala Pattar, a three-week trip to Everest Base Camp is an extremely popular choice for trekking travelers here. This will be a difficult trip for visitors to be able to overcome the rugged terrain, conquering the height under the support of the Sherpa people.
According to experienced people, before conducting trekking tour to Mount Everest, visitors need to have a time to stay in the nearby city to get used to the climate and altitude. If not, sudden changes in climate and pressure may cause you to faint. On the other hand, whether exploring or trekking to Everest Base Camp also need abundant health and ample money. A trekking tour of this type also costs about $2,000.
2. Himalayas, India
In the ancient language, the Himalayas means "The whereabouts of snow", stretching across the Asian continent, passing through five major nations: Bhutan, China, India, Nepal and Pakistan. The Himalayas are also the highest mountain range on the planet, home to 14 peaks higher than 8,000m, including Mount Everest.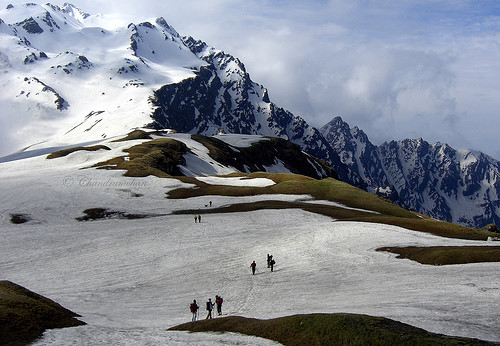 If you're just going alone, try the trekking experience at the top of Mount Himachal Pradesh. Usually pedestrians take about 24 days to travel from Spiti to Ladakh.
3. Overland Trail, Australia
Tasmania's World Heritage-listed wilderness area is an ideal place for fans of trekking tourism. You can hike the famous 65-mile Overland Road from Mount Craddle to St Clair Lake in 6 days or take short day trips from the Cradle Mountain Visitor Center to Dove Lake.
The best time to walk on this trail is between November and April when the weather is more pleasant and the day is longer to save energy. This walk is very close to nature. Guests will discover charming landscapes with lakes, forests, canyons, Rocky Mountains and moors, beautiful waterfalls and towering peaks.
4. Narrows Trail, Zion National Park, United States
Zion National Park is a majestic mountain area, breathtaking scenery with steep red Rocky Mountains like a rocky landscape in a beautiful green herbaceous area.
The Narrows Trail in Zion National Park is a walking spot that is not confused with any other place. Here, visitors will experience a 26km long journey through the impressive canyons formed over centuries by the Virgin River. However, more than half the journey, visitors have to wade, even to swim through. It may only take a day for visitors to fully explore this road.