Phra Pradaeng – a small river flowing through the capital Bangkok, it is like an oasis covered by wild jungle, fruit plantations and swamps. Stepping into this oasis, you will go back in time to ancient Bangkok when there were no tall buildings, highways or subway stations …
You will only take half a day to cycle to explore the whole area. When viewed on the tourist guidebook, introduced as "The Green Lung of Bangkok", locals call it Bang Kra Jao.
Our group of 6 met in the afternoon, gathered at Sukhumvit Road Soi 39, and after taking a brief introduction about ourselves and listening to instructions on safety rules, we set off. After 5 minutes running along the main road, we ran into a more rustic area than the bustling part of the city: the Klong Toei hamlet. This area has many narrow alleys with houses, shops, and creeks. There are very few foreign tourists here, so it still retains its rustic and simple features, very suitable for those who love to explore new places.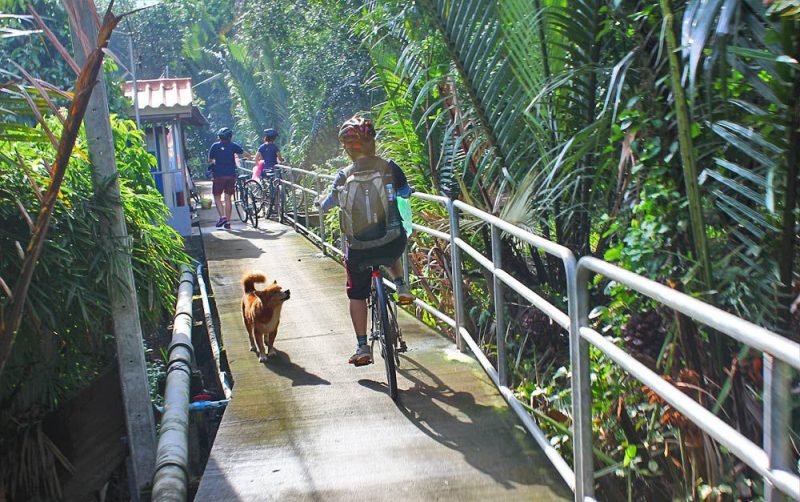 After 15 minutes, we reached the riverbank, carrying our bikes, we climbed on a boat, in Thai it is called Ruea Hang Yao. The boat ran past barges carrying rice, oil ships … straight to the vast green patch on the other bank of the river. As we got out of the boat, noisy sounds, loud sirens were replaced by chirping birds and rustling leaves. The road is carefully marked and very flat, so the 25km journey is no longer a problem. During the journey, the instructor always created a joyful atmosphere with jokes, small anecdotes, everyone was joking around while riding their bike leisurely. Residents of Phra Pradaeng still use old motorbikes, street vendors … We passed a fruit plantation with a good harvest and another was abandoned after the 2011 flood and currently being renovated.
The abundance of life in the tropics is staggering. The storks with long legs stood mixed among reeds, the sound of frogs tingling like an authentic choir. We've never seen so many shades of green – from the emerald green of the young leaves to the dark green of the swamp moss. One of the lizards lying in the sun started to run away startled when we approached. Our group also passed an ancient temple surrounded by a mystical atmosphere. After a few breaks along the way, we decided to visit a local restaurant serving popular but delicious food for only 30 baht. But more than half of the group was captivated by kittens with wide eyes wandering around.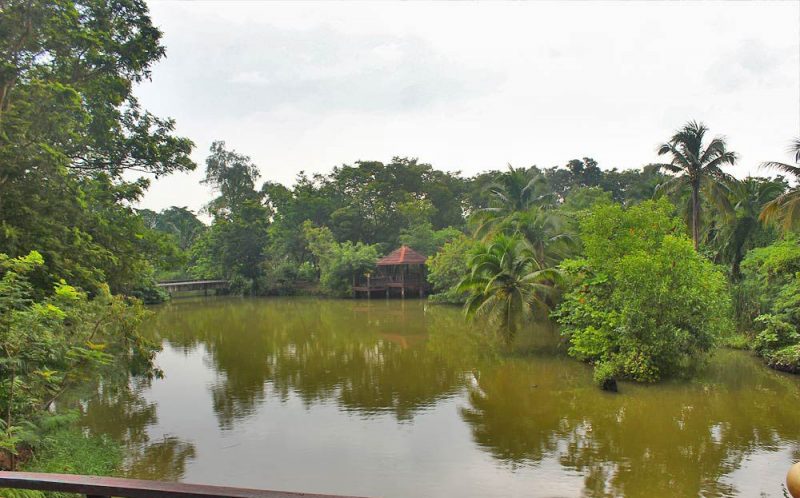 On weekends, the stop of this 4-hour journey is Bang Nam Pheung Floating Market. There are not many stalls, but the stop has its own interesting point, you will choose your favorite snacks and enjoy sitting under the shady trees. The final stop of the oasis exploration is the Sri Nakhon Khuean Khan Park, a huge green space with wide streets, bridges and a lake full of fish. After feeding the fish, we boarded a boat again and returned to our original departure point – Sukhumvit Soi 39.
Considering the recent population explosion in Bangkok, I can hardly believe that "Bangkok's green lung" still retains its inherent pristine character. However, the plots of land here are gradually being sold, large villas are also appearing more and more. So, when there is still a chance, come here and enjoy this fresh space while you can.